Frequently Asked Questions
Welcome to the 21st Season of the Kingsmen Shakespeare Festival! This year our productions are Love's Labour's Lost & Julius Caesar. Below you will find information containing specifics about the Festival.
Please note the following: we are an outdoor venue. All guests must bring their own chairs.
Ticketing Information
How much are general admission tickets?
General admission tickets are $20 each. For anyone under the age of 18, tickets are free of charge!
NOTE: seating is first come, first serve.
Can I purchase general admission tickets in advance?
General admission tickets are sold on the day of performance only. There are no advanced tickets sales for general seating. However, Lawn Box seating can be reserved in advance by calling (805).493.3452. Reservations can also be made online by clicking here for Love's Labour's Lost and here for Julius Caesar.
Where is general admission seating?
General admission seating is located behind the last row of the lawn boxes ( behind row 28-34).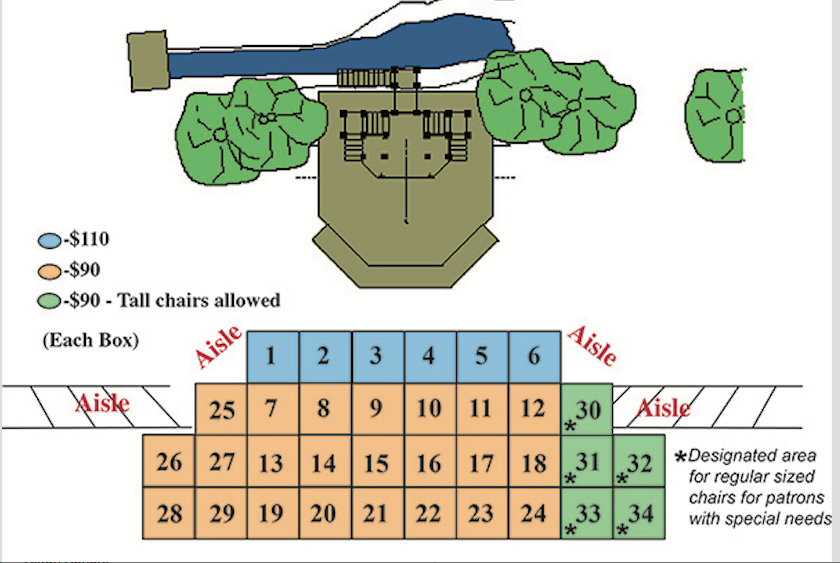 What is a Lawn Box?
Our Law Box Seating is the preferred seating that is closest to the stage. Each box is 8' by 8' and can accommodate 4-6 adults.NOTE: Lawn Boxes are outlined on the ground; there are no physical barriers separating guests from each other.
Can I reserve Lawn Box tickets?
Yes! Lawn Box tickets can be reserved in advance! Prices range from $90-110. Each box is 8' x 8' and can accommodate 4-6 adults. Reservations can be made online or by calling: (805).493.3452
When I try to purchase a lawn box it says " out of stock"?
This means that the lawn box has been sold. It will be removed from the website shortly.
Do I still have to pay the general admission fee if I have a reserved Lawn Box?
No, guests seated in the reserved Lawn Boxes do not pay the general admission fee.
Alcohol
Is alcohol permitted at the Festival?
The campus of California Lutheran University is a dry campus, except for areas and events designated by the president of the University. The Kingsmen Shakespeare Festival will offer beer and wine for sale by the glass to adult members of our audience with proper identification.
According to our legal obligations, audience members are still NOT allowed to bring alcohol into the Festival grounds. The Festival will be patrolled by security.
We reserve the right not to serve anyone or to deny access to anyone who abuses the University's alcohol policies.
Animals and Pets
Are animals / pets allowed in the Festival?
We kindly ask that you do not bring any animal or pets to the festival. We do make exceptions for service animals.
Seating
Where can I sit?
If you have reserved seating ( lawn box), upon arriving at the Festival grounds, please check-in at the table. We will direct you to your reserved area. If you are a general admission guest, seating is first come, first serve. All guests must bring their own chairs.
If I have a lawn box do I need to take low profile lawn chairs?
Yes! If you are sitting in a Lawn Box, ALL chairs must very low to the ground and they MUST have low backs. This is to ensure the maximum viewing pleasure for all our guests. Regular sized chairs are permitted in boxes 30-34.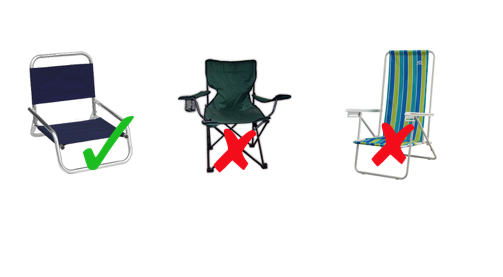 If I am sitting in the general admission area, do the low profile chair regulations also apply to me?
No. If you are sitting in a general admission area or the designated area (see below), the chair regulations do not apply to you. You are permitted to bring a standard size chair or bring a blanket to sit on the grass!
Can I save my seat if I'm sitting in the general admission area?
Yes! General admission patrons are allowed to claim their seating area before the show.Many patrons leave their chairs and blankets and have dinner at one of the local restaurants in town. Please note that Kingsmen Shakespeare is not responsible for lost or stolen items.
Should I bring a blanket?
Yes! The evenings get surprisingly cool. Please be prepared to bring jackets/blankets; being cold is no fun!
Parking
Please park in the lot at the corner of Olsen Road and Mountclef Blvd near the Welcome Center. The only Festival entrance is at the top of the hill.
Show Information
What time does the show begin?
8pm
What time should I arrive?
The Festival grounds open at 5:30 p.m., with the main stage production beginning at 8:00 p.m.
If you are seated in a Lawn Box, we ask that as a courtesy to our other guests, your party be seated in your box no later than 7:45 p.m. Arriving after the production begins may delay seating.
Is there a pre-show?
Yes! The pre-show is starts around 6:45-7:00 p.m. each night.
Do I need a handstamp or a ticket for re-entry?
No, a handstamp or ticket is not necessary for re-entry once you have paid admission.
Are there any restaurants nearby that my family and I can go to before the show?
There are a number of restaurants located near the Festival. These options include but are not limited to:
Mouthful Eatery, Moqueca Brazilian Restaurant, Pokeland, Little Calf Creamery and Café, Bucca di Beppo, Bad Ass Tacos (local favorite), 3 Amigos Restaurant, Love Pho Café, Kabab Plus, Sumo Japanese Restaurant, Mastro's Steakhouse and Parma Pizza Napoletana. For more options visit: https://www.yelp.com